Getting Started as a Light User
---
This functionality is currently available only on browser.
This functionality is also available on iOS and Android in a limited form.
What is a Light user?
Light user accounts are typically used by members of the internal supply chain, managers or executives, and can even be provided to external suppliers or clients. All Onshape users have access to the one single source of their enterprise data. There are times, however, when some users don't need all the CAD functionality but rather just need to access, view, and export data. To better serve the needs of different users, Onshape provides two types of user accounts:
Full users - Full users have the ability to access all of Onshape's functionality to create, edit, and share data. Typically, Full user accounts are used by engineers, designers, or CAD specialists.
Light users - Light users can view, comment on, and export enterprise data that has been shared with them.
When you sign in to Onshape as a Light user, you experience a trimmed-down version of the Onshape user interface called the View only toolbar. Many features and toolbars are removed, leaving only the commands necessary for finding, opening, viewing, commenting on, and exporting data. These commands are conveniently accessed through the View only toolbar.
In addition to the toolbar, you can also right-click on a sketch or part to access a menu of available commands like Show Dimensions, and other commands as well. Double-click on a feature in the Features list to see the settings and options used to create it.
The default entry-point for a Light user upon sign-in is the Activity stream on the dashboard: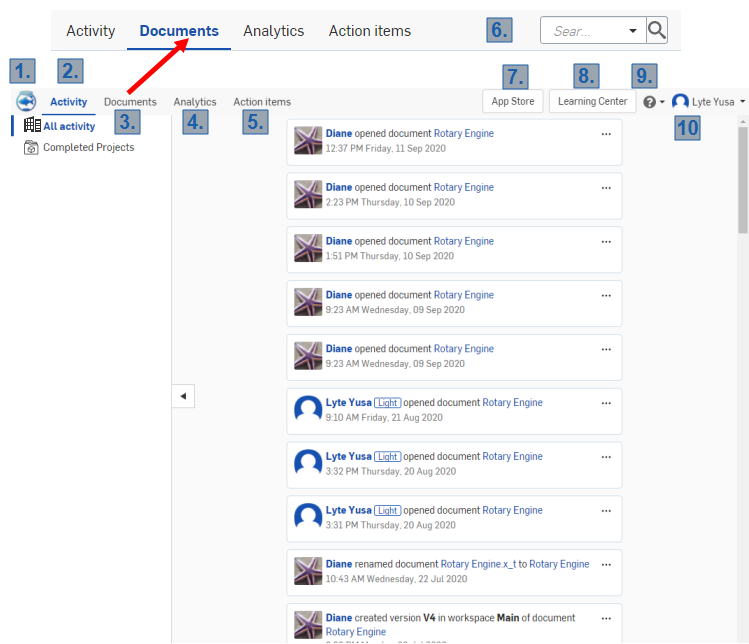 An activity stream lists all the actions taken on all documents to which you have permissions.
The only time you will not land on the Activity stream page, is when you are shared directly into a document and access that document via the share link (sent via a notification in the product, an email, or a mobile notification if this type of notification is turned on).
---