Managing Your Free Onshape Subscription
---



This functionality is available on Onshape's browser, iOS, and Android platforms.
The Account menu, located under your name in the upper-right corner of the interface, allows you to access:
My account - Where you can manage and maintain your Onshape account, set preferences, notifications settings, security and more. See My account settings for detailed information.
View support tickets - View any support tickets you have submitted. If you would like to submit a support ticket, look in the Help menu (the icon to the right of your name in the upper-right corner of the interface).
Sign out - Sign out of and close your Onshape session.
All of the management and maintenance of your Onshape account can be done through the My account page, accessed through the User menu at the top right of the Onshape window. The icon for the user menu may look like this

. You can also upload an image of your choosing to take the place of this icon.

Upgrading to a Standard Account
To upgrade to a Standard subscription from a Free or Education plan, click the Upgrade button on the Documents or My account page.
You are directed to a new tab with Onshape plans explained. Click the Select Standard button. Fill out the form and click the Confirm payment information button. Review and confirm your purchase.

Upgrading to a Professional Account
Onshape's Professional subscription allows you to create unlimited private documents. The Professional subscription is a company subscription (you are able to pay for one or multiple users).
If you are new to Onshape and do not yet have an account, click the Sign up link on the Onshape home page and follow the instructions.
If you already have an Onshape account, click the

Learn more

button on the Documents or My account page. The Explore Professional and Enterprise features dialog opens. Do one of the following:

Click the Plans and pricing link at the bottom left of the dialog, then click the

REQUEST TRIAL

link under the Professional subscription column. Fill out the Request a Professional Trial form and click

SUBMIT

.
Click the

Chat now to learn more

button at the bottom right of the dialog. A chat bot opens where you can discuss upgrading with a Sales representative.
When upgrading from a Free to a Professional subscription, any View only documents you previously saw on the Documents page are now editable documents. Onshape automatically makes all of your documents accessible to you.

Upgrading to an EDU Account
To upgrade to a free EDU subscription from a Free plan, first sign out of your free account:
On the Onshape sign in page, click Sign up.

On the Get started with Onshape page, enter the same contact information you used for your Free account.

Select  Student for the What best describes you field.

Select your school level.

Check the agreement box and click Get Started.

Complete step 2.

Click Create Account.
You will be directed to a sign in page. Enter your credentials and sign in to your Onshape EDU account.

Deleting Your Free Account
Users with Free Onshape accounts have the ability to delete their account, removing all personal data as well as document data from Onshape on their own, without the need to contact Onshape.
If you choose to remove your Onshape account, expect the following:
Your account will be deleted within 30 days and during this time your account and the documents therein will be inaccessible.
Once the request is completely processed, your account and all data will no longer be recoverable. Documents owned by you or your company (if applicable) will no longer be available to you or anyone those documents were shared with.
Any existing links to (internal to a document, such as a linked part) and any copies of these documents will remain active.
To delete your Onshape account:
Proceed to the My account page, Profile tab.

At the bottom of the window, click Delete my Onshape account:

Read the modal window carefully, it explains what actions will be taken on your behalf and what will happen to your documents:

When you understand the consequences of your actions, enter "delete my account" and then your password:

The Delete my account button becomes active. Click it.
A summary of events is displayed. We recommend you take a screenshot of this information for future reference as it explains what actions are taken while we delete your account, and as well as what happens to your documents.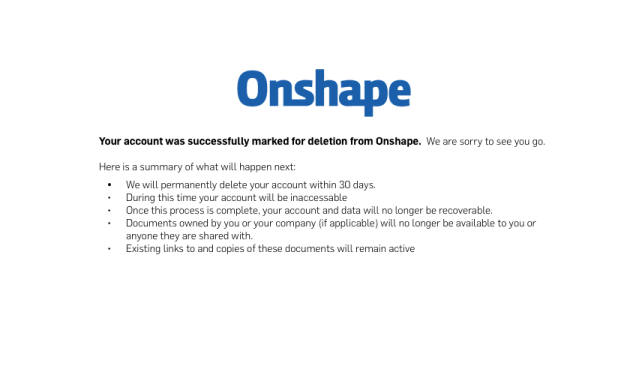 It is also possible to delete a free account from within the iOS app. Navigate to Settings > My account > Delete my account.
---