This functionality is currently available only on browser.
You can create mechanical drawings from within Onshape Part Studios and Assemblies and also of entire Part Studios. All Onshape drawings are based on the .DWG file format (drawing database) and the .DXF file format (Drawing Interchange File) is also supported.


This functionality is also available on iOS and Android in a limited form.
You can create a drawing on iOS devices, however, the only actions you can take on them in iOS is rename, change the drawing URL, delete, and export.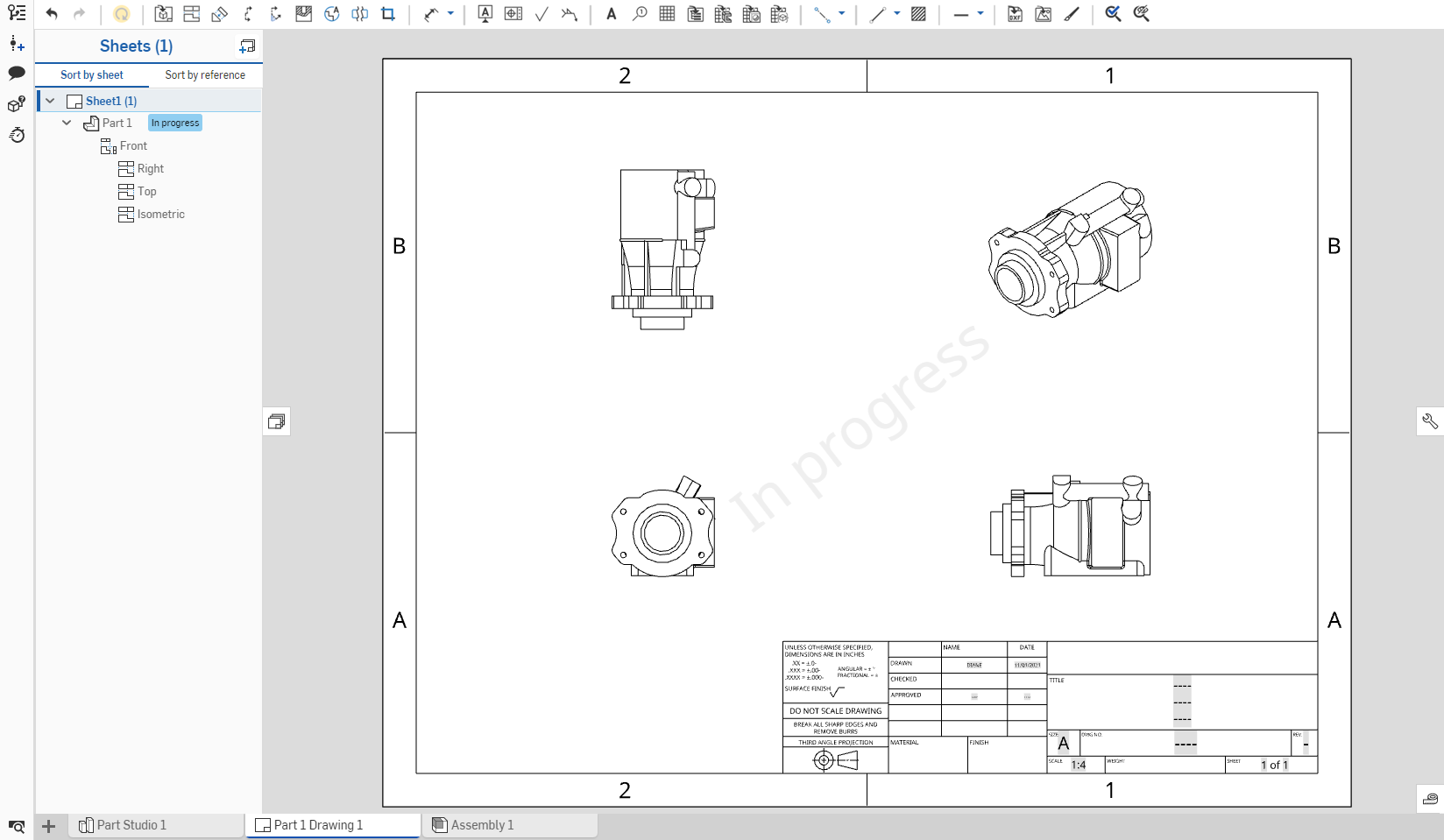 Important
Keep in mind that currently, simultaneous editing is not supported in drawing elements. If you try to activate a drawing element that another user has already activated (in a shared document), you will see a message explaining who is currently editing the tab.
Keyboard shortcuts
| Shortcut | Action |
| --- | --- |
| f | Zoom to fit |
| w | Zoom window |
| Shift+z | Zoom in |
| z | Zoom out |
| d | Dimension |
| Shift+r | Radial dimension |
| Shift+d | Diameter dimension |
| Shift+q | Toggle on midpoints and quad points |
| m | Maximum/minimum dimension |
| n | Note annotation |
| Ctrl+q | Update drawing |
| l | Line |
| p | Create Projected view |
| s | Display shortcut toolbar (if enabled; Esc key to close) |
| Ctrl+s | Display sheet menu |
| PgDn | Next sheet |
| PgUp | Previous sheet |
| Home | First sheet |
| End | Last sheet |
| Delete | Delete selected entity |

Drawings context menu
Right-click on a Drawing tab to access the context menu:
Delete - Delete the Drawing (or any tab), even if it is active. The last remaining tab cannot be deleted.
Open in new browser tab - Open this Drawing in a new browser tab.
Rename - Access the dialog to rename this Drawing.
Properties - Access the dialog to provide information about the Drawing. In the Properties dialog, you can provide meta data for the entire Drawing. Properties that are grayed out (inactive) are defined and populated through the Company's properties in Account management. See Manage Companies > Properties for more information.
Duplicate - Copy this Drawing tab and insert the copy into this same document. All references to the original Part Studio are maintained.
Copy to clipboard - Make a copy of this Drawing tab on the clipboard. You can then use the menu in another document and the Paste tab command to add the Drawing tab into that document. When a Drawing tab is copy/pasted into another document, the Part Studio from which it was created is also pasted into the other document. No references to the original document are maintained.
Change to version... - Select a different version of this document from which to create this drawing. You can update to the latest version with a click, or handpick an earlier version.
Select as document thumbnail - Use an image of this drawing as the document thumbnail.
Update linked document... - Update the document you linked with by inserting parts, Assemblies, drawing views, or derived parts.
Move to document - Move the Drawing to a new document, creating the document during this operation (or selecting an existing document). If any part or assembly is used in any tab of the original document, a link between the two documents is created. Note that, the Assembly tab and the Part Studios from which the part instances are referenced will all move to the new document. This action will be prevented if it would result in a document with no tabs.
Export - Export the Drawing in a variety of formats with options of where to download or keep in a separate Onshape tab.
Release - Create a Release candidate containing this drawing.
Revision history - View the revision history of the drawing, if applicable.
Create task - Create a task that can be assigned to another user (or the current user), that can reference a drawing, and have a due date. Users specified in a task are notified of the task. You can create tasks from any Onshape Part Studio, Assembly, and Drawing tab, and from the Tab manager, through the context menu on a tab in the list.
To learn more about creating drawings in Onshape, follow a self-paced course here: Detailed Drawings (Onshape account required). You can also follow the Learning pathway course here: Introduction to 2D Drawings (Onshape account required).
---