Managing Your Onshape Education Standard Subscription
---



This functionality is available on Onshape's browser, iOS, and Android platforms.
Education subscriptions are for current faculty members, volunteers, or degree- or certificate-seeking students at accredited education institutions. This plan is solely for classroom instruction, student learning projects, school clubs or organizations, and academic research. This plan is not for government, commercial, or other organizational use.
Education subscriptions allow the same working environment as the Standard subscription, but expire after one year of use. As long as the user still qualifies according to the criteria stated above, the Education subscription may be renewed. When the user no longer qualifies, the subscription must be downgraded to a Free subscription.
The Account menu, located under your name in the upper-right corner of the interface, allows you to access:
My account - Where you can manage and maintain your Onshape account, set preferences, notifications settings, security and more, as explained below.
Action items - View any tasks that have been assigned to you through the Comments dialog. More on tasks, below.
View support tickets - View any support tickets you have submitted. If you would like to submit a support ticket, look in the Help menu (the icon to the right of your name in the upper-right corner of the interface).
Sign out - Sign out of and close your Onshape session.



This functionality is available on Onshape's browser, iOS, and Android platforms.

Action items
Copy link
When you select Action items from the account menu, you see a page with the following filters on the left:
Role - Choose between filtering through tasks assigned to you or created by you by selecting one of the radio buttons to the left of the filter options.
Status - Choose between filtering through open or closed tasks by selecting one of the radio buttons to the left of the filter options.
Sort - Sort your filtered results by Oldest tasks first or Newest first by clicking the dropdown arrow under Sort and selecting your preference (Onshape defaults to sorting by Oldest first).
As you select different filters, the results for the corresponding selections will appear in the Action Items list located in the center of the page.

Upgrading to Professional
Copy link
Onshape's Professional subscription allows you to create unlimited private documents. The Professional subscription is a company subscription (you are able to pay for one or multiple users).
If you are new to Onshape and do not yet have an account, click the Sign up link on the Onshape home page and follow the instructions.
If you already have an Onshape account, click the Upgrade button on your account page and follow the instructions below (or navigate to http://cad.onshape.com/upgrade (opens in new tab)).
When upgrading from a Free to a Professional subscription, any View only documents you previously saw on the Documents page are now editable documents. Onshape automatically makes all of your documents accessible to you.

Expiration or Canceling Education Subscription
Copy link
The Education plan allows free subscriptions to students and teachers. All documents created with an Education subscription are marked with a badge

forever. When a user is no longer a student or teacher, it's prudent to cancel the Education subscription and move to the Free subscription, and then optionally upgrade to the Professional subscription. All Education subscriptions automatically expire one year after they are created unless an action is taken to renew. Upon expiration, the subscription is downgraded to a Free subscription. Users are warned through an in-product banner 5 days before the subscription expires, and again up to 5 days after expiration (see image below). Only users who are students or teachers should renew.
Education subscriptions expire after a year, at which point you are automatically downgraded to the Onshape Free subscription. However, you are notified before the expiration date and have the opportunity to renew the Education subscription again (or upgrade to another subscription type), provided you still meet the criteria.
To review your subscription for an expiration date, navigate to your account and select the Subscription page. The field "Valid until" lists the date the subscription expires.
To cancel the Education subscription and move to the Free subscription:
Expand the user menu under your user name and select My account.
Select the Subscriptions tab.
Follow the instructions to contact Onshape via email or phone call.
Your subscription is automatically downgraded to the Free subscription. Your private documents remain private, but you will not be able to edit them. Likewise, any private documents shared with you will be view-only (non-editable). You will still be able to view, export, and download your private documents. Any documents you create in the Free subscription are automatically and always public unless you upgrade your subscription and make the document private. You can upgrade to the Professional subscription at any time and once again edit your private Onshape documents.
Note that all documents created through an Education subscription will always have a badge

attached regardless of transfer of ownership. If the document is made public, it will get a Public badge in addition to the EDU badge, and the EDU badge will mark any copies made and the document if it is made private again.
Renewing subscription

Copy link
To renew your Education subscription, in the case that you are still a student or educator, click the Renew EDU Account button that appears in the Onshape interface on the Documents page.
One week before your subscription expires, you will receive an email informing you of the impending subscription expiration. Clicking the Renew Onshape Education Account button takes you to the Onshape sign-in page. Once signed in, you can renew your subscription, as outlined above.
Upgrading subscription

Copy link
To upgrade from an Education account to one of the other subscription types, click the Upgrade button at the lower left corner of the screen. The Pricing page opens with three options: (1) Standard, (2) Professional, or (3) Enterprise. Select the option you wish, and continue with the on-screen upgrade instructions.

Deleting Your EDU Account
Copy link
Users with Onshape EDU accounts can delete their account, removing all personal data as well as document data from Onshape on their own, without the need to contact Onshape. If you have another type of Onshape account, you must first downgrade to Free before you can delete your account.
If you choose to remove your Onshape account, expect the following:
Your account will be deleted within 30 days and during this time your account and the documents therein will be inaccessible.
Once the request is completely processed, your account and all data will no longer be recoverable. Documents owned by you or your company (if applicable) will no longer be available to you or anyone those documents were shared with.
Any existing links to (internal to a document, such as a linked part) and any copies of these documents will remain active.
To delete your Onshape account:
Proceed to the My account page, Profile tab.

At the bottom of the window, click Delete my Onshape account:

Read the modal window carefully, it explains what actions will be taken on your behalf and what will happen to your documents:

When you understand the consequences of your actions, enter "delete my account" and then your password:

The Delete my account button becomes active. Click it.
A summary of events is displayed. We recommend you take a screenshot of this information for future reference as it explains what actions are taken while we delete your account, and as well as what happens to your documents.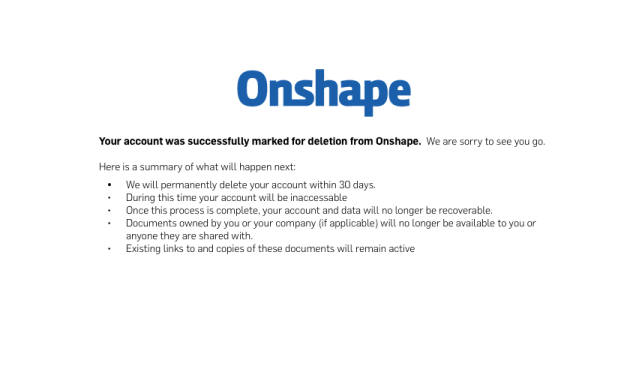 ---